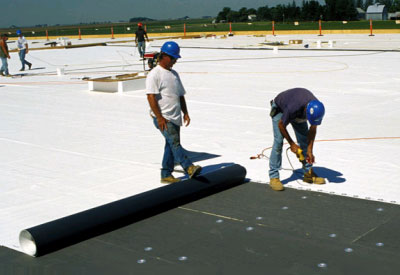 For the conscientious business owner, a new roof or roof replacement is a serious investment. It involves protection of your property and the people and contents within. Identifying roofing problems before they occur requires experience and an understanding of your system. Crown Roofing & Drainage has been serving the Lower Mainland since 1902, and provides unmatched experience when it comes to complete roof replacement, rapid repairs and ongoing maintenance for all commercial applications, including:
• Fiberglass & asphalt shingles
• Rubber & cedar shakes
• Flat roofing – torch or cold
• Green roofs
• Steel roofing & sheet metal
• Continuous aluminum gutters.
Crown Roofing & Drainage offers complete roofing, reroofing, waterproofing and repair services on flat roof systems, single-ply membranes and built-up assemblies (tar and gravel). We also fabricate and install custom sheet metal flashings in our full-service sheet metal shop, using available architectural colors.
Our experienced crews work on commercial, industrial and residential properties, satisfying the needs of owners and managers alike. Figuring out a problem is just as important as finding an effective solution. Not every blemish on a roof will lead to a leak, and similar problems may require entirely different solutions. Let us take the worry out of caring for your property. Call Crown Roofing & Drainage today at (604) 327-3086.