"Help! My Roof Is Leaking!"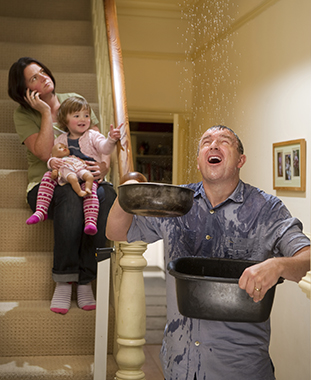 Crown Roofing LTD 's Emergency Response Team – (604) 210-6655
In the event of storm damage or another catastrophic roof failure, Crown Roofing LTD maintains an Emergency Response Team to provide rapid solutions to critical Vancouver roofing problems.
The first thing to do is to make sure all members of your family are safe and removed from danger. Next, shut off electrical power to the section of the home that is damaged. Then call our Emergency Response Team at 604-210-6655 to help stop the damage and make short-term repairs.
The first job of our team of experienced Vancouver roofers is to prevent further damage by effecting temporary repairs. Once the storm or event is over we will return to assess the situation and recommend more permanent repairs or replacement.
Call Us for Quality Roofing in Vancouver BC
For a new roofing system or roof repairs in the Vancouver BC area, trust the professionals of Crown Roofing LTD . With over 100 years of experience and thousands of successful roofing projects we're the experts in roofing Vancouver homes and businesses. Contact us today at 604-210-6655 or by completing our convenient online form to schedule a free roof evaluation and estimate.