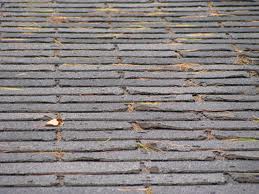 While today's roofing materials are manufactured to be more durable than ever, over the years rain, wind, blistering sun and frigid cold combine to take a serious toll on your roof. Here are some signs to look for in an aging roof that will help you know it may be time to contact a British Columbia roofing professional for repair.
Shingled Roofs
As shingles age, the rough granules on their surface are lost. This results from both hardening of the shingle, and wear from weather. Wind and rain will push loose granules down the roof and into the guttering, so check your gutters for excessive amounts of granules. While it's natural to find some granules, if your gutters are unusually full it's a good sign that your shingled roof is in need of replacement.
Also check your roof for signs of cracked flaps, as the bond that holds shingles together loosens over time. Eventually the brittle, cracked shingles will break off in a strong wind, leaving your roof susceptible to leaking. Should you notice cracked or missing shingles, it is important to promptly contact your British Columbia roofing contractor for a thorough inspection before further damage occurs.
Tile Roofs
Concrete tile roofs are one of the most durable roofing choices, and will last for decades with proper maintenance. The most common culprit of tile roof damage is UV rays that break down the calcium carbonate in the concrete, resulting in cracking and crumbling tiles. Another red flag is the growth of moss and algae on the roof.
Roofing experts can treat a tile roof with a protective coating that guards against UV damage and organic growth, so don't hesitate to call an experienced roofing contractor for a consultation.
When a roof is properly installed and periodically maintained, it can provide many years of secure protection for your home, even beyond the life of the warranty. Regular inspection and repair can result in significantly lower costs than re-roofing. If you are concerned about your roof, call Crown Residential Roofing to schedule a free inspection.