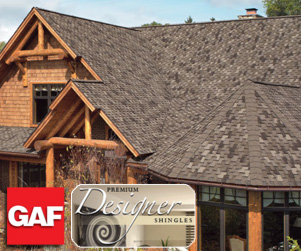 Asphalt shingles are by far the most popular residential roofing material utilized in North America today. According to the Asphalt Roofing Manufacturers Association, four out of every five homes in the U.S. are roofed with asphalt shingles, and more than 12.5 billion square feet of shingle products are manufactured annually – enough to cover at least 5 million homes!
With their quality performance, versatility and affordability, it's easy to understand why asphalt shingles are the leading choice of roofing contractors in BC. Let's take a look at the different kinds of asphalt shingles available to you.
• Strip shingles. Strip shingles are differentiated by the number of cutouts, or tabs. The most common type is the "three-tab" strip shingle. Three-tab shingles, such as the Royal Sovereign® line from GAF, offer a traditional appearance at an economical price.
• Architectural shingles. Also referred to as laminated shingles, this upgraded shingle type features more than one layer of tabs for extra thickness. The added dimension creates visual depth on a roof that gives it a custom look. Architectural shingles, including GAF's Timberline® series, continue to be very popular among builders, homebuyers and roofing contractors in BC.
• Designer shingles. GAF offers a premium line of designer architectural shingles that emulate the look of expensive slate and wood shake shingles. Brands such as the Camelot® offer extra-thick tabs, specially blended colors and unique cutouts for dramatic visual impact.
With a huge range of styles to choose from, asphalt shingles can complement almost any type of architecture and budget. For expert advice and quality installation of your next asphalt shingle roofing project, call the professionals at Crown Residential Roofing at (877) 907-3066.