Managing townhouses, condominiums and other multi-family roofing isn't as straightforward as single family homes. If you happen to be part of the board or Home Owners Association (HOA) that manages such properties, you need a roofing contractor who can address the following challenges of today's multi-family homes: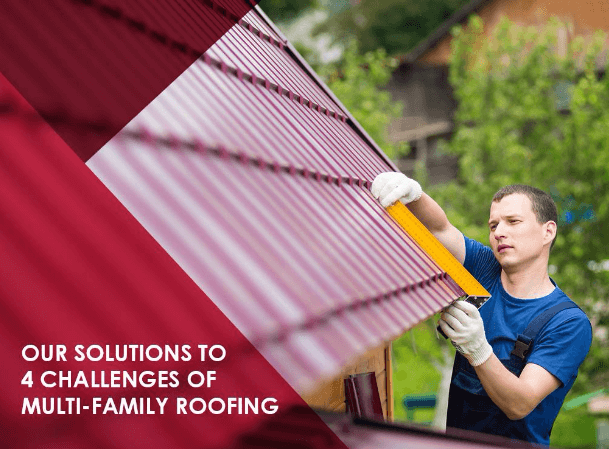 Quick response: With several families living under a shared roof, the need for a quick response to roofing emergencies is greater. Where a typical homeowner can choose to postpone repairing a minor roof leak with minimal disruption, the same leak in a multi-family structure can be disruptive for several families, who would have no choice in the matter. You need a roofer familiar with all roofing types, can perform emergency roofing repairs and can be counted on to provide long-term solutions to most roofing problems – we can do all of this at Crown Roofing.
Consistency: Some multi-roof, gated communities and townhouses require a consistent look among all structures, which means limited roofing material choices. Roofing repairs can be a challenge if a contractor gets their supplies from sources other than manufacturers. You could end up with a roof that looks obviously patched. Crown Roofing, on the other hand, is certified by leading manufacturers like GAF and Owens Corning, which means we source our materials directly from their factories, ensuring consistent results throughout the process.
Shared walls: Townhouses typically have shared walls, so roof maintenance, repair and replacement has to be done without disturbing the adjacent roof. This, of course, requires a roofer who can work quickly, efficiently, and most importantly, with minimal disturbance. Crown Roofing has extensive experience with townhome roofs, and our past clients can attest to the quality of our work, including the thorough cleanup work that we do after every job.
Keeping track of maintenance: We understand how difficult it is to manage even one property, let alone several. We also understand the importance of regular roofing maintenance, which is why we work with property managers in coming up with a comprehensive roofing maintenance plan to ensure that no roofing checkup is missed, keeping your roof in top condition so you can focus on other management duties.
At Crown Roofing, we can handle any roof installation, repairs and maintenance in all shapes and sizes. Call us today at (604) 210-6655, or fill out our contact form to schedule a free roof evaluation and estimate. We serve New Westminster and Surrey.