Professional Roof Installation for Surrey Homes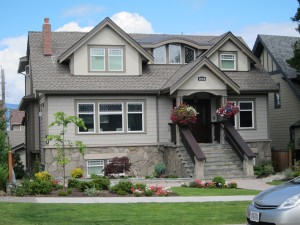 Your roof is too important to the safety of your home and family to trust to anyone other than the experts of Crown Roofing LTD , the Surrey roofing professionals!
A secure, reliable roofing system depends on the use of high quality, dependable materials that can stand up to our changing weather patterns. But even the best roofing materials requires proper installation to provide the "peace of mind" protection you want.
That's why when you need a new roof your first call should be to Crown Roofing LTD . Whether your home's roof was damaged in a storm, or has simply aged beyond its useful service life, we can be trusted to provide the most efficient and effective solution for roofing installation on Surrey homes.
roofing
Our roof installation teams have all be carefully trained and certified by the manufacturers whose products we install, including GAF Corporation and Owens Corning, two of North America's most well known roofing companies. That means we use the latest "best practices" in roofing techniques to ensure a snug, weatherproof fit that will deliver years of dependable service and value.
Your Roof is Protected While It Protects You!
Because Crown Roofing LTD has invested the time and resources to become certified by our manufacturers we are able to offer our Surrey roofing customers the industry's most comprehensive roofing warranties. They are fully backed and supported by GAF and Owens Corning, and provide an extra level of comfort, as you know that any problem that may arise with your roofing system will be taken care of properly.
Call Us for Quality Roofing in Vancouver BC
For a new roofing system or roof repairs in the Vancouver BC area, trust the professionals of Crown Roofing LTD . With over 100 years of experience and thousands of successful roofing projects we're the experts in roofing Vancouver homes and businesses. Contact us today at (604) 370-6288 or by completing our convenient online form to schedule a free roof evaluation and estimate.