Surrey's Top Roofer!
Surrey , BC
Put Your Trust In Crown For Roofing In Surrey, BC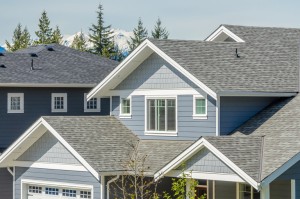 Nobody wants to think about their roof, but everyone wants to know that it will be there to protect their home and family against the elements. That's what makes Crown Roofing the leading choice among roofers in Surrey. Over 100 years of experience and proven success means you can trust us to do the job right.
Crown Roofing & Drainage offers both roof repair services and the design and installation of new roofing systems, along with eaves to ensure proper drainage in Surrey's wet environment. Our expert installation teams use the latest roofing "best practices" on every roof to make sure it will deliver years of reliable service.
Here are four more reasons why Crown Roofing has earned a reputation as the top Surrey roofing contractor:
1. Quality Materials – We use only brand name roofing products and materials from the industry's leading manufacturers, including GAF Corporation and Owens Corning. This approach ensures that your roof will stand up to the weather, year after year.
2. Exceptional Service – We take the mystery out of roofing by providing open and honest communication, clearly written estimates and schedules, and safe, efficient work. We can complete most roofing projects in just one day!
3. Guaranteed Satisfaction – Because Crown Roofing is certified by the manufacturers whose products we install we can offer you the industry's best roofing warranties, along with our own guarantee of workmanship quality.
4. Proven Support – We've been roofing Surrey homes since 1902, and you don't stay in business that long without proving your value to thousands of customers!
Get A Free Written Estimate For A New Roof Or Roof Repairs In Surrey, BC
Whether you have an immediate need for roof repairs, or are planning to replace an older roof with a more efficient roofing system, we'd be happy to provide you with a written estimate at no obligation. Call Crown Roofing today at 604-370-6288 to schedule a free on-site assessment and estimate.
---
Jason B.
Roofing in South Surrey. GAF Timberline HDZ Lifetime asphalt shingle system. EPDM internal gutter membrane done to RCABC standards. Crown Roofing Ltd your residential roofing experts! www.crownresidentialroofingltd.com
Near
131a St,
Surrey
,
BC
V4A 9
---
Jason B.
Strata roofing and gutter replacement project in South Surrey, BC. Metro Vancouver's best roofer - Crown Roofing Ltd. Call Crown Roofing 604 370-6288, for all your residential roofing projects. www.crownroofingltd.com
Near
Parkway Dr,
Surrey
,
BC
V4P 1
---
Jason B.
Strata roofing and gutter replacement project in South Surrey, Southwind. 25 buildings. Clubhouse roofing complete, gutters to be replaced Monday. Steep slope roofing by Metro Vancouver's number one roofing company - Crown Roofing Ltd. Call today for a free roof replacement estimate. www.crownroofingltd.com
Near
26 Ave,
Surrey
,
BC
V4P 1
---
Jason B.
Crown Roofing Ltd working in the Elgin Park Neighbourhood of South Surrey. Cedar conversion. Beautiful craftsman style home. GAF Golden Pledge Lifetime Warranty. Timberline Ultra shingles in Weathered Wood. New Columbia skylights supplied and installed. Never roof again! Independently inspected and approved to RCABC and manufacturer warranty requirements. #RoofIngSurrey #SurreyRoofer
Near
31 Ave,
Surrey
,
BC
V4P 3
---
Jason B.
Townhouse Complex Roofing Project by Crown Roofing Ltd. Surrey's Best Roofer!GAF Timberline HD Lifetime Shingles in Hickory. Golden Pledge Lifetime Warranty (Strata Terms). Custom metal work. All work independently inspected and approved. Work done in accordance with RCABC requirements. #StrataRoofingSurrey
Near
101a Ave,
Surrey
,
BC
V3R 0
---
Jason B.
Strata Re-roofing project in South Surrey. Crown Roofing LTD - BC's best strata roofing company. 150,000 square foot multi unit project. RCABC 5-Year Warranty. Certainteed Landmark 30 Shingles with Certainteed components.
---
Jason B.
Premium Craftsman home in South Surrey. The start of any great renovation - a new roof by South Surrey's Best Roofer - Crown Roofing Ltd. GAF Grand Sequoia shingles in Weathered Wood, continuous ridge venting, Golden Pledge Lifetime Warranty. Never roof again on this beautiful home.
Near
30 Ave,
Surrey
,
BC
V4P 2